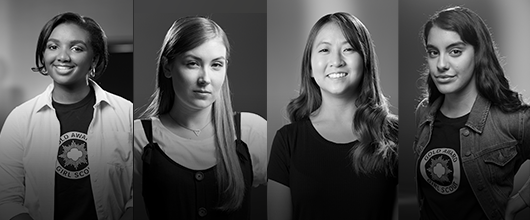 Gold Award Girl Scouts
Issues of the world, meet your match. 

Gold Award Girl Scouts are the dreamers and the doers who take "make the world a better place" to the next level.
The Girl Scout Gold Award is the mark of the truly remarkable—proof that not only can she make a difference, but that she already has.
Seniors and Ambassadors who earn the Gold Award tackle issues that are dear to them and drive lasting change in their communities and beyond. Think of the Gold Award as a key that can open doors to scholarships, preferred admission tracks for college, and amazing career opportunities.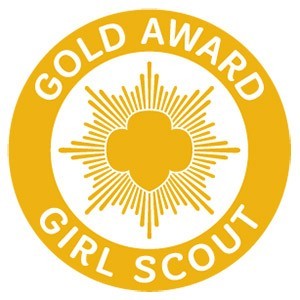 You can pursue your Girl Scout Gold Award if:
 

You're in high school (ninth through twelfth grade, or equivalent) 
 

You're registered as a Girl Scout Senior or Girl Scout Ambassador
 

You have completed two Senior or Ambassador Journeys OR earned the Girl Scout Silver Award and completed a Journey
 
Girl Scout Gold Award Steps
1. Identify an Issue

2. Investigate your issue thoroughly

3. Get help and build your team

Identify an organization to work with for your project.  Your contact person there will become your project advisor. They can also help you develop your idea to meet their needs
Once you feel like you are ready, complete your Notice of Intent to notify us that you are ready to write your proposal. You will then be assigned a Gold Award Mentor.

4. Create a plan

Connect with your Gold Award mentor

It is your responsibility as the girl, to introduce yourself and initiate communication with you mentor after your initial introduction from your local program manager.

Then, work with them to complete your Gold Award Project Proposal on GoGold Online

When your proposal is complete, your Mentor will need to approve you to present to the Gold Award Committee.
Additional resources

Writing S.M.A.R.T (Specific, Measurable, Achievable, Realistic, Timely) Goals

5. Present your plan and gather feedback

Once you have your Mentors approval on your proposal, inform your Mentor on when you would like to present to the Gold Award Committee.

There are set dates that you can find online and in our Program and Resource Guide

You may request an alternate date if there are unforeseen circumstances that arise

Present to and receive additional feedback and suggestions from the Committee
Check out GoGold Online Tips and Tricks

6. Take action

Resources to help you TAKE ACTION!
How will you measure your impact?

7. Educate and inspire

Work with your Mentor on your Final Report and get their feedback.

Once you have Mentor approval, complete your final report on GoGold Online

Investigate your issue thoroughly
 

Please Note: The deadline for girls to complete their Gold Award follows the Girl Scout membership year and is September 30th
of the year after a girl graduates from high school, or her 18th birthday, whichever is later (after that, she is no longer officially a girl member of Girl Scouts).

Also, each year, Girl Scouts of Historic Georgia hosts awards ceremonies in early May where we honor girls who have earned the Girl Scout Bronze, Silver and Gold Awards during the previous year.  In order to be recognized at that ceremony, a girl must submit her Final Report paperwork to the council by March 15th. If a girl finishes after the March 15th deadline, she will be recognized at the following year's ceremony.