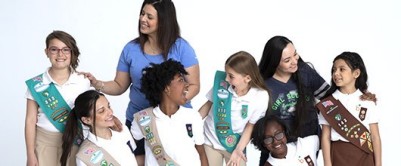 As a Girl Scout volunteer, YOU have the potential to change girls' futures and help them build their own success—whatever that looks like to them. When you register to volunteer today and invite a friend to register too, we'll send you both a $25 electronic gift certificate code to use at the Girl Scout Shop* as a token of our appreciation—SWEET! Don't miss out! Limited time offer while supplies last.
Continue >

The 2019 Back to Troop Catalog is here! Look inside for the latest and greatest in our shop, with an exciting focus on STEM and outdoors! Click below to view the entire catalog.
Continue >

Try new things. Make new friends. Go on more adventures than you can count. There's a whole world of opportunities waiting for you when you're a Girl Scout! Through enriching experiences and activities, girls discover their values, connect with those who share their vision, and take action to make the world a better place. Check out all that 2019 has to offer!

Continue >



SOCIAL MEDIA FEED