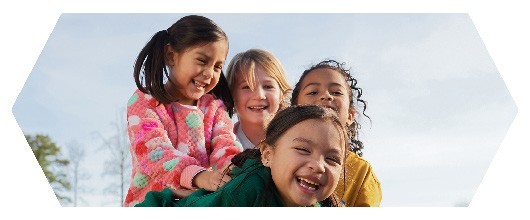 Join Girl Scouts
You're invited. Press play with us.
Making friends, testing her strengths, exploring new possibilities. It's all here for her.
Whether teaming up with others or learning to shine on their own, Girl Scouts have the tools and community support they need to succeed.
Press play with Girl Scouts. Where she can be herself and her confidence can soar.
She's ready to go.
Membership dues are just $30 annually, but financial aid may be available! Whether you have questions about starting a new troop for your girl and her friends, joining an existing troop, or something else, send us a note at customercare@gshg.org or call us at 1-888-689-1912. We're here for you!

Paper forms in English and Spanish:

Financial aid through insurance:

Before you join, know your options.



Certain insurance companies like Amerigroup, Peach State**, Caresource and Healthy Blue (South Carolina) will cover her $30 membership fee. Register through insurance assistance for Amerigroup or CareSource by filling out our request form.

*Adult membership are available through Caresource. If you are an adult with Caresource insurance seeking membership, please fill out this form.

**Peach State's members must contact Peach State directly to request a GSHG membership.  Peach State covers girls in grades K - 12.
Peach State Number: 1-800-704-1484.


Need help? Our Customer Care Team is happy to chat!

Financial aid through GSHG:

Girl Scouts of Historic Georgia allocates funds for the sole purpose of assisting new members with paying their membership dues. These funds are limited and granted based upon a specific set of criteria. 

When assessing if a girl qualifies for financial aid, we take into consideration: 
- the number of members in one family
- family income
- family employment status
- whether a troop/girl is a re-registering Girl Scout

To apply, please complete our Financial Aid Application.

How will I know if I'm chosen to receive aid from GSHG?

Approvals are sent for processing with no formal notification sent. If a request is denied, a notification will be sent to the applicant/parent/guardian.