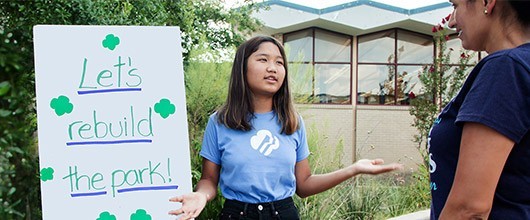 Silver Award Girl Scouts
When Girl Scout Cadettes focus on an issue they care about, learn the facts, and take action to make a difference, they gain the confidence and skills that will catapult them to lifelong success. It all adds up to the Girl Scout Silver Award—the highest honor a Cadette can achieve.  Download the Silver Award guidelines to find out how.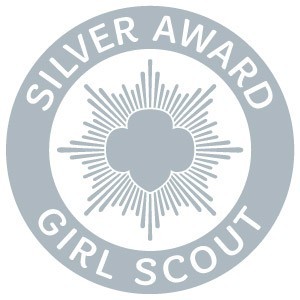 You can pursue your Girl Scout Silver Award if: 

You're in sixth, seventh, or eighth grade (or equivalent)



You're a registered Girl Scout Cadette 
 

You have completed a Cadette Journey
 

Girl Scout Silver Award Steps
 

Identify an issue you care about
 

Build your Girl Scout Silver Award team or decide to go solo
 


Pick your Silver Award project
 


Make a plan and put it into motion
 

Reflect, share your story, and celebrate
Please Note: The deadline for girls to complete their Silver Award follows the Girl Scout membership year and is September 30th of the year a girl begins 9th grade (after that, she is no longer officially a Girl Scout Cadette.) This is approved at the troop level by the troop leader.

Also, each year, Girl Scouts of Historic Georgia hosts awards ceremonies in early May where we honor girls who have earned the Girl Scout Bronze, Silver and Gold Awards during the previous year.  In order to be recognized at that ceremony, a girl must submit her Final Report paperwork to the council by March 15th. If a girl finishes after the March 15th deadline, she will be recognized at the following year's ceremony.